News & Events
EK GHAR ROSHAN KAREN: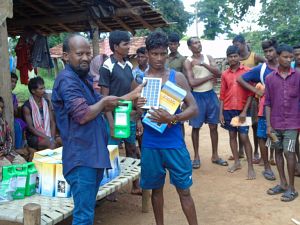 EK GHAR ROSHAN KAREN:
Ekghar Roshan kare : Completion of 3rd phase [31.10.2019]: sponsored by Prof; Ratan Mulchandani: Delivery of 59 lights in Kurumalathogu [32 Lights] and Chepuruchelaka [27 lights] of Kukunuru Mandal. This year we delivered total 124 Solar lights [100 sponsored by Prof: Ratan Mulchandani and 24 lights from Delhi based Institutional Donar] This time villagers in two villages made road voluntarily for our vehicle to reach their village easily. This is their contribution to making road enables transport easy in the name of getting Solar lights. We missed Prof; VVN Rao garu first time in delivery of Lights. We thank All supporters of Ek Ghar Roshan Karen for their concern. Our activity of delivering Solar lights in Kukunuru Mandal become viral and an appeal came from neighbouring Mandal Mulakanapalli. They made an appeal for 390 lights for 14 villages situated in remote forest.
Related News & Events
Leave message for us
Have a question or need support Contact Us ?