News & Events
RAHAT - dry ration kits to 300 flood affected families sponsored by GOONJ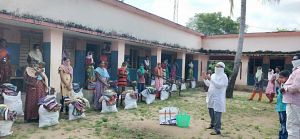 Goonj: ...a voice..an effort: Delivery of 300 dry ration kits to flood affected families of 5 villages of Chinturu and VR puram Mandals, East Godavari district of AP. Involved Volunteers of concerned village SECRETARIAT to identify affected families and make a list. Stock kept at MALLETHOTA Hostel, center village. Requested all beneficiaries to come (3-5kms) and take the kit. All Volunteers helped in delivering kits to right needy and affected families. Sarpanch Mrs.Muchika Krishna Kumari delivered first kit followed by Mr.Dharmula.Ramesh, PATEL (Kula pedd). The following items found in sample kit. All beneficiaries are felt happy and conveyed thanks to GOONJ for support.
Relief kit:
1.Rice 10kgs
2. Finger millet flour 1kg
3. Tor Dal -2kgs.
4. Meal maker
5. Sugar 1kg
6. Chana 1kg
7. Palmolive soaps-2
8. Xtra washing soaps 2
9. Colgate paste 6nos (40gms each)
10. Masquto nets -2
11. Napkins - 1
12. Foxtail millet - 1kg
13. Chilly powder - 500gms
14. Turmeric - 500 GM's
15. Spade oil -1 liter.
16. Plastic sheet
17. Masks -cloth reusable- 3
18. Cloth mats 2
19. Bed sheets - 2
20. Sanitizer - 100ml.
Related News & Events
Leave message for us
Have a question or need support Contact Us ?